Enter your keyword to search
×
---
---
© 2010 - 2023
Antony Consulting
Pte Ltd.
All Rights Reserved.
"Agility is to the business what fitness is to the human body."
-Jurgen Appelo-
Business Agility
With rapidly emerging technologies and changing market conditions, today's organizations are often challenged by disruptive changes that impact the long term survival of the business. Companies need to rapidly innovate and scale their delivery in order to create new or increasing value for their customers.
The principles of Agile & Lean, while originating from the software development industry, are more of a culture change transformation affecting the whole organization, embedding the Agile thinking into all levels of activities within the business.
This organization-wide programme can help an organization transform their existing business processes & program/project management models to enable rapid innovation cycles and empower their workforce, thereby building Business Agility to thrive and succeed in today's demanding business environment.
"Agility is to the business what fitness is to the human body – Jurgen Appelo"
OUR VALUE PROPOSITION
Clients can anticipate the following value proposition:
Bespoke Client solutions that focus on key pain points related to effectiveness, efficiency, waste and lead time reduction, and employee engagement
Value creating initiatives to enhance the financial impact on the organisation
Targeted and measureable outcomes from our solutions plan.
OUR ENGAGEMENT
Our promise is to deliver a bespoke client solution that focuses and addresses your key pain points, and to create & embed lasting initiatives in your organization.
We usually start our engagement along the following path
Explore – Foundation seminar (2-hr); Impact Analysis to detect Opportunities
Exploit – Identify value; Solutions Execution
Transform – Extend Lean thinking into other areas; Grow innovation culture
Our core services can be categorised as follows:
Consulting Advisory in one or more of the core practices (Lean, Kanban, Scrum)
Consulting Execution where our consultants co-work with our clients in implementation work at program or project level
Agile & Lean Coaching where our consultants work closely with clients in guiding and mentoring specific executives & teams
Business Agility Education in hosting conferences, workshops, seminars, masterclasses on topics related to Business Agility
ANTICIPATED CLIENT PROFILE
Our clients would be mid-sized or large-sized businesses operating or having significant presence in Asia Pacific, either in a single country or have multi-country operations.
Our clients would be keen to leverage its workforce capability and performance and engage in value creation initiatives.
CORE PRACTICES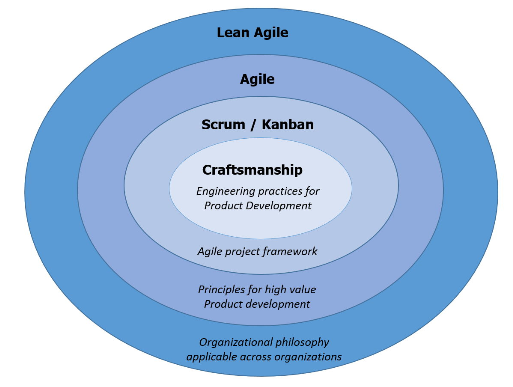 Lean
Adapted from Toyota's highly successful lean manufacturing process (TPS), and originating from the Poppendieck's book "Lean Software Development", Lean Thinking helps to drive large scale change in organizations. Lean provides organizational change through elimination of waste, building a work culture that respects people, optimizing the whole process flow and seeking continuous improvement.
Agile
The AGILE Manifesto defined in 2001 are a set of core values & principles to reinvent traditional software development practices into a more nimble and adaptive approach. Up until recently Agile methods were mainly applied to the software industry but lately Agile has proven to be equally successful in helping organizations deal with changing & disrupting business imperatives.
The Agile methods help develop business agility by enabling self-organized teams, creating a rapid feedback loop to meet changing requirements, and building quality early into the process flow.
SCRUM
SCRUM is an Agile framework for running projects and delivering products. While it has its roots in software development projects, Scrum can be applied successfully to non-software delivery teams. Scrum helps deliver the right product at the right time to customers by improving collaboration & responsiveness in teams, predictable delivery to deliver cycles (known as sprints) to garner early feedback, and build highly engaged teams that's closer to the value stream of the business.
Kanban
While Kanban started initially as an alternative Agile model to running projects, it is now recognized as a very effective approach for process change management that imbues an organization with a continuous improvement mindset. Kanban drives incremental evolutionary change by improving value stream (concept-to-cash), building leaders at all levels to support business agility and provides visualization for continuous improvement.